Diabetes Awareness Month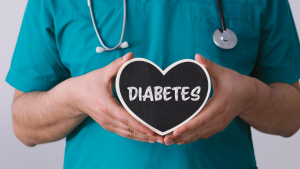 National Diabetes Month:
Understanding, Managing, and Thriving
November marks a significant time for the healthcare community and individuals alike as we observe National Diabetes Month. At Heritage Victor Valley Medical Group, we understand the importance of raising awareness about this prevalent health condition that affects millions worldwide.
Diabetes is more than a diagnosis; it's a condition that touches the lives of individuals and families in various ways. This month, we aim to shed light on the impact of diabetes, educate our community on prevention and management, and offer support to those affected by this condition.
Why National Diabetes Month Matters
This observance is more than just a nod to a prevalent health issue. It's a call to action, urging us all to understand the gravity of diabetes and the pivotal role of prevention. By coming together, sharing knowledge, and highlighting resources available, we strive to empower individuals to make informed choices for their health.
Our Commitment to Diabetes Care
At Heritage Victor Valley Medical Group, we are dedicated to supporting those with diabetes and those at risk. Our team of compassionate healthcare professionals offers comprehensive care, guidance, and resources for managing diabetes effectively.
Join Us in the Mission
This National Diabetes Month, we invite everyone to participate in raising awareness about diabetes. Whether it's sharing information on social media, engaging in healthy lifestyle choices, or spreading the word about available resources, every effort contributes to a healthier and more informed community.
Let's stand together in the fight against diabetes, supporting those affected and emphasizing the significance of early detection and proactive management.
For those seeking more information or assistance in managing diabetes, reach out to Heritage Victor Valley Medical Group. Let's work together towards a healthier, diabetes-aware community.
Remember, understanding, managing, and thriving despite diabetes is possible. Join us this month in making a difference!
-Heritage Victor Valley Medical Group