HVVMG & VCC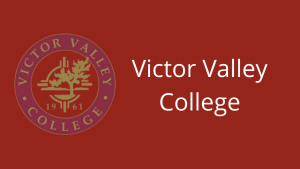 Heritage Victor Valley Medical Group is excited to announce a new partnership with Victor Valley College. HVVMG Members can now take non-credit classes absolutely free of charge! Simply select one of the suggested classes from this page, or visit catalog.vvc.edu for additional options. Earlier submissions have a higher chance of enrollment! If the class has space available, a VVC Representative will then contact you with your next steps! At Heritage, we strive to provide you with both a healthy body and a healthy mind! We're pleased to offer yet another exciting benefit to our members!
AHOM-20 Beginning Clothing Construction
Designed to teach basic sewing skills and equipment use. Emphasis on fundamentals, including use of equipment, knowledge of fabrics, and construction techniques. This course will not apply to the Associate Degree.
Phot-10 Cell Phone Photography
This course will present cell phone basics that can be applied to a variety of situations in which better cell phone photography is the goal
Phot-111 Beginning Digital Photography
This beginning digital photography course will cover imaging basics such as exposure control using shutter speeds and apertures, composition, and lighting. Topics include the integration of traditional design, color, and compositional principles utilizing contemporary digital methods and tools. This course will also use the computer to further manipulate digital images. The controls of digital cameras, scanning, editing, output, and image enhancement will be covered
Geog-103 Geography of California
A study of California's physical and cultural characteristics. Physical topics covered include earthquakes, fires, landslides, floods and volcanoes. Cultural topics include diversity, immigration, urbanization, agriculture, and economics.
CIS-101 Computer Literacy
This is a survey course that provides an overview of computer technology for multidisciplinary majors. Using laboratory projects supported by the lecture, the student gains "hands-on" familiarity with different operating systems, word
processors, spreadsheets, database management systems, programming, networks, and the use of the Internet. Recommended preparation: Mouse skills: know the difference between, be able to perform, and know when to utilize: left click, right-click, single click, double click, and drag and drop motion. Keyboarding skills: nominal typing speeds of about 30 words per minute (WPM)
HLTH-102 Personal / Community Health Problems
This course focuses on the exploration of major health issues and behaviors in the various dimensions of health. Emphasis is placed on individual responsibility for personal health and the promotion of informed, positive health behaviors. Topics include but are not limited to nutrition, exercise, weight control, mental health, stress management, violence, substance abuse, reproductive health, disease prevention, aging, healthcare, environmental hazards, and safety.
Other classes available at catalog.vvc.edu
If you have any questions about the program, please email Bryan Liddi at bmliddi@hvvmg.com