MENTAL HEALTH AWARENESS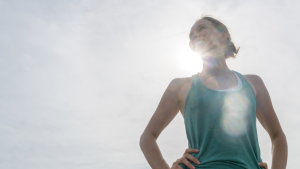 MENTAL HEALTH AWARENESS
Mental Health Awareness Month is typically celebrated in May, so what a perfect time to approach the topic of mental health.  Our mental health is just as vital as our physical health with both being interrelated to our overall well-being. The stigma that has historically been associated with mental health is slowly decreasing, though people still continue to hesitate to seek help or treatment due to fear of being judged, shunned or some other unnecessary backlash including one's own friends, family, medical community and community at large. The question is not "what's wrong with you?" but "what's happened to you or what's happening with you?" and then providing a safe and non-judgmental space for the individual to begin talking and seek help.
Key statistics :
1 in 5 Americans suffers from a mental illness (NIMH).
Anxiety disorders are the highest reported mental health issue in the US with 42.5 million Americans claiming to suffer from this illness. (Mental Health America).  Mental health crises account for 60 million visits to primary care and 6 million ER visits annually. (Centers for Disease Control and Prevention). Some of the main groups of mental disorders are depressive disorders, bipolar and related disorders, anxiety disorders, personality disorders, psychotic disorders (such as schizophrenia), trauma and stressor related disorders, eating disorders, substance abuse disorders. (Diagnostic and Statistical Manual of Mental Disorders, 5th Edition, DSM-5-TR).
In addition to begin to talk about one's mental health problems and seeking help, there are other things that can be done to help improve one's mental well-being such as:
Connect with other people. Positive relationships and social support help provide a sense of belonging and self-worth. (Do not rely on technology or social media alone to build relationships.)
Be physically active. Physical activity causes chemical changes in the brain which has shown to decrease symptoms of depression and anxiety.  Being physically active does not mean spending hours in the gym but engage in an activity that you enjoy and can stick to.
Learn something new. This helps boosts self-confidence and develops a sense of purpose. Consider a new hobby, start a new project, enroll in a college course, become a mentor; make the activity an enjoyable part of your life.
Give to others and/or your community. This helps create a sense of positive feelings, sense of reward, purpose, self-worth and helps with social connection to others.  An act of kindness can go a long way.  Volunteer, show gratitude, say thank you to someone for what they have done for you, offer help and support to others in need, check in on friends and loved ones. (Don't say "if there's anything you need, then let me know" but do say "What can I do for you? What do you need?").
Practice mindfulness and staying in the present moment. This includes your thoughts and feelings, your body and the world around you.  Focusing on the past attributes to depression and worrying about tomorrow increases feelings of anxiety.  Staying in the present moment helps to decrease stress, relaxes the body and the brain. Meditate, pray, practice yoga, deep breathing, listen to a favorite song, work on a puzzle, color, paint, garden; repeat and do it again the next day.
Know what your 'mental health tool kit" is and what works for you such as using the above mentioned suggestions, which by the way are evidenced based practices.   What works for you? Take charge of your mental health, your physical health, your total health. We're given the gift of life and the best gift we can give to ourselves and others is how we take care of and treat ourselves including our mental health.  Do something today that your future self will thank you for.
National Suicide Hotline  988 
Calhope Warm Line (emotional support) 833-317-4673
 Author's credentials:
Donna Hague has been on staff with Heritage Victor Valley Medical Group since April 2011.
Donna is a licensed clinical social worker, licensed by the California State Board of Behavioral Sciences as a licensed mental health professional and has been practicing since 2006.  She has bachelor's and master degrees in psychology and social work in addition to holding a national certification as an advanced grief counselor specialist.