Prioritize Your Kidney Health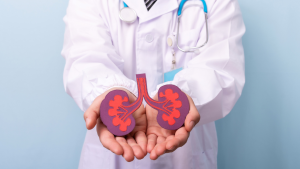 Prioritize Your Kidney Health: Start the Conversation with Your Doctor!
When it comes to preventing kidney disease, knowledge is power. By having an open and proactive discussion with your doctor, you can take important steps towards safeguarding your kidney health.
Don't hesitate to talk to your doctor about kidney disease prevention. Here's why it matters:
Assess Your Risk: Your doctor can help evaluate your risk factors for kidney disease based on your medical history, family history, lifestyle, and other relevant factors.
Early Detection: Regular check-ups and screenings can catch potential kidney issues early on, allowing for timely intervention and treatment.
Lifestyle Guidance: Your doctor can provide personalized recommendations on maintaining a healthy lifestyle, including diet, exercise, hydration, and managing underlying conditions like diabetes and high blood pressure.
Medication Management: If you're taking medications that may impact kidney health, your doctor can discuss alternatives or adjustments to minimize potential risks.
Education and Resources: By discussing kidney disease prevention with your doctor, you gain access to valuable educational materials, resources, and support networks to help you on your journey to optimal kidney health.
Remember, your doctor is your partner in promoting your overall well-being, including kidney health. Initiate the conversation, ask questions, and stay informed.
🩺Start the dialogue today and take control of your kidney health. Together, we can prevent kidney disease and live healthier, fulfilling lives.