Update Your Medicare & Medical Info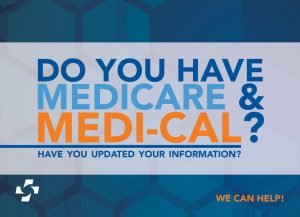 Be Prepared! If your contact information is not up-to-date, there is a strong possibility that you may miss out receiving your Medi-Cal redetermination packet. Missing this opportunity could seriously affect your healthcare services! Heritage Victor Valley Medical Group strongly suggests that you update your contact information with San Bernardino County as soon as possible! This can be done by phone, by visiting a San Bernardino County Office, or by conveniently updating your information online in the privacy of your home. If you need assistance or have questions or concerns regarding the process, Heritage Victor Valley Medical Group is here to support you. Due to the upcoming changes, our priority is to ensure your Medi-Cal coverage is not compromised. We are here to make this process as easy as possible for you!

Call us with any questions at (760) 261-5202.